Antti K. Koskela is a Finnish Software Developer / Generally Geeky Person working as a Cloud Solutions Architect for Etteplan, living as a hermit in the beautiful Finnish countryside. Koskila.net is his personal professional (e.g. professional, but definitely personal) website.
Okay, let's drop the third person speech. You can read more about me and stuff I do from here: https://www.koskila.net/antti-koskela/
In addition to this being my personal home page (nowadays, I guess that means a catalogue and links to my other stuff online in different channels, right?), I'm blogging about all kinds of exciting topics!
See a few of my latest blog articles below:
---
Experiment: DateTime formats

Okay. So I needed to figure out what locales certain machine supported, and what kind of DateTime formats those would produce. Being the crafty coder I am, I set out to copy-paste some readymade code from docs.microsoft.com. As a side note, after Microsoft opened the docs out to community contributions, I have had far less need to browse StackOverflow for my carefully curated code snippets of questionable quality. I'm going to regard that as a minor victory on the path to friendlier developer communities. Preface…

Continue reading

Experiment: DateTime formats

How to fix "LinkedAuthorizationFailed" when deploying an Azure Logic App?

This article explains one possible fix to "LinkedAuthorizationFailed" when you're deploying a Logic App from a Azure Automation template. Maybe it'll apply to other cases, too – but in my case, it helped me fix a broken template I had exported from Power Automate, and was bringing into Logic Apps. Problem So, another fun issue to solve! The actual error you run into might be something along these lines: The client has permission to perform action 'Microsoft.Logic/integrationAccounts/join/action' on scope '/subscriptions/[your subscription id here]/resourcegroups/[your app resource…

Continue reading

How to fix "LinkedAuthorizationFailed" when deploying an Azure Logic App?

How to fix a build configuration that's not available as a build directive in Visual Studio?

This article describes how to fix and tweak your pre-build directives in Visual Studio – just in case they refuse to properly work. Because yeah, apparently that sometimes just randomly happens. But fear not – there's a stupid and ugly, but definitely thoughtful workaround available! Also, sorry for a confusing title. I'm taking suggestions for a more descriptive one! Anyway – on to the topic of the day! Problem So you're either trying to get a new build configuration to be visible in the dropdown…

Continue reading

How to fix a build configuration that's not available as a build directive in Visual Studio?
---
What's koskila.net about?
The tagline for my blogging efforts has been Solutions are worthless unless shared for quite a while already. That's to say, since I've gotten a lot of help from the community whenever I've had issues getting something to work, I like to give something back. This blog is my way of doing that.
Blogging has been a great, lightweight way to sort my thoughts and document weird fixes and findings along the way. And boy, has there been a lot of them! Microsoft's stack always keeps surprising me – mostly in a positive way, but there's an occasional bump along the way too!
These are some of the topics I often write about: Azure Active Directory errors, Azure PowerShell errors, terrifying examples about how to open a modal dialog in SharePoint using JavaScript, all kinds of weird new Microsoft Azure -related tidbits of information, a bunch of Visual Studio -related (and other) tips and tricks, and of course the blog's namesake – SharePoint Problems.
In addition to more technical posts, sometimes I might post about my sessions at different community events, or experiences as an expat living in a foreign country (in 2017, that country was the USA, in 2018 & 2019 Canada). Right before the pandemic, I moved back to Finland to live in the middle of a forest.
---
Speaking Gigs
Back in the olden days, when the world was not on fire, I used to travel to different events. Now it's all digital.
I'm also speaking at some of these events every now and then – see below, if any of the events are coming up (or catch the materials from the latest gigs)!
You can also see a list of all my sessions and session materials.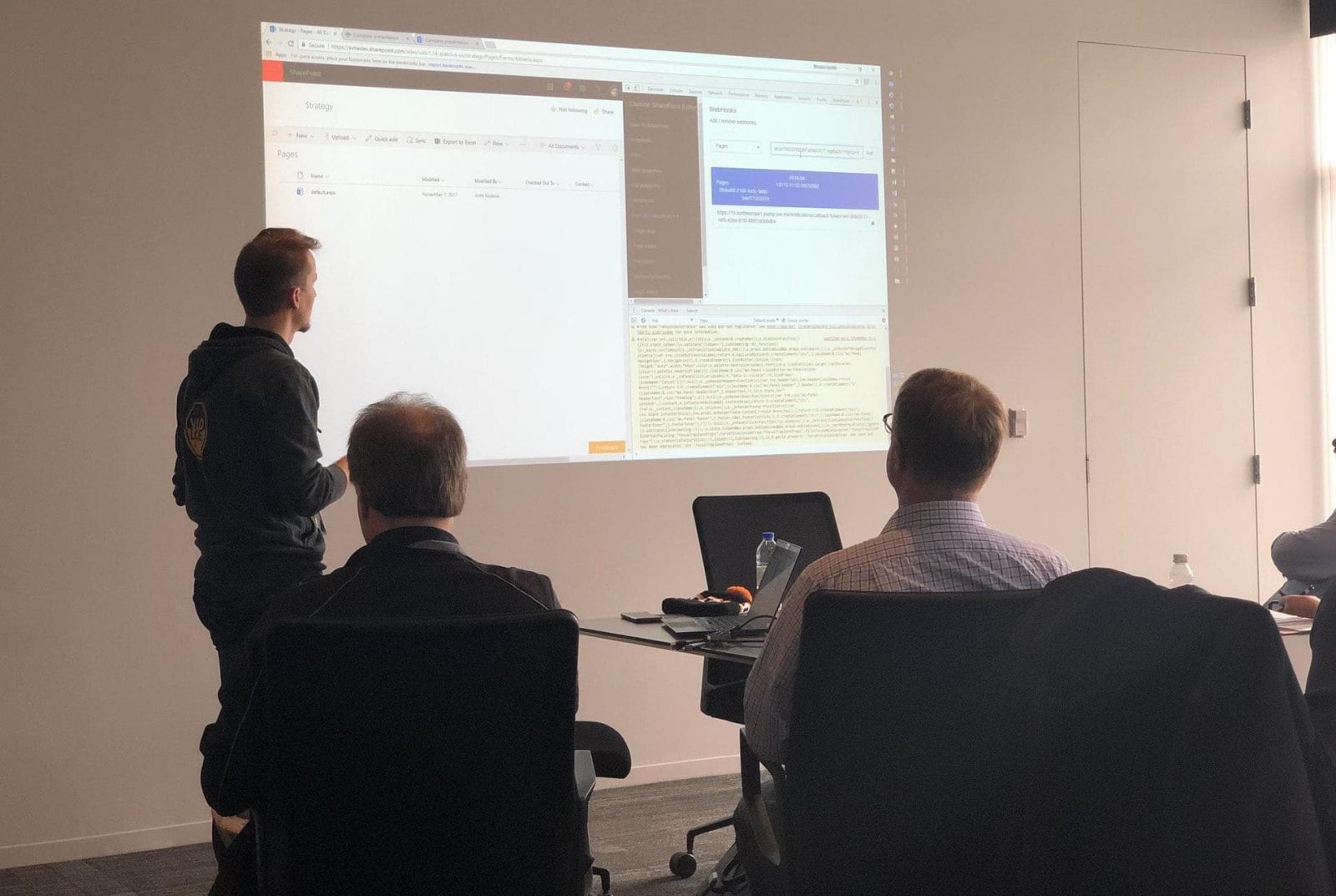 ---
No upcoming engagements. Would love to meet y'all again, after we've got a vaccine or something.
---
Want to learn more? Check out the about me -page, page/post archive, the list of my blog posts (latest first) or contact me! :)