This post was most recently updated on January 6th, 2023.
4
min read.
First of all: you're right and your eyes are serving you well. It has indeed disappeared. Starting in October, it'll be hidden from end users. Microsoft is retiring the "Site Content and Structure" tool in SharePoint Online. Which kind of makes sense, since it's quite an old feature – albeit, a very useful one.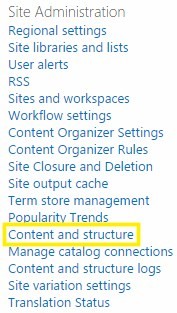 How to access "Content and Structure"?
Even though Microsoft is retiring the tool, and has already hidden it from the UI, it's still accessible. That's supposing you had access to it in the first place – you'll need to be using a Classic SharePoint site collection, and have Publishing features activated.
In its current form, it's available only for SharePoint Site Collection administrators, and for a limited time.
You can still access the site by appending "_layouts/15/sitemanager.aspx" to the end of the web URL. So, for example – this works:
https://contoso.sharepoint.com/_layouts/15/sitemanager.aspx
The tool should be available and accessible (through this URL) until the end of March 2019.
When you're able to access the site, you'll see the following banner at the top of the screen: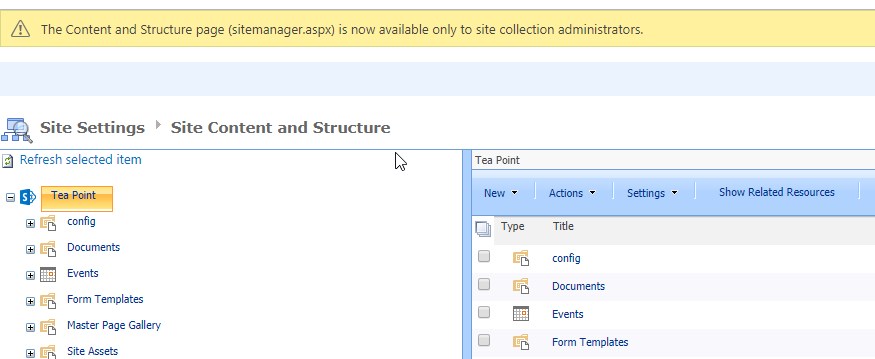 ---
Content and Structure replaced by "Move to.."
Content and Structure is – supposedly – replaced by the "Move to…" -dialog in Modern SharePoint. Of course, this functionality is available in pretty much all the library views, as long as you enable the Modern view.

It's a very easy way to move files around – but it's far from perfect… Let's take a look into some issues you might run into when you use the "Modern Move To.." -functionality!
Caveats of the "Move To" in SharePoint Libraries
"Move to.." actually has one big caveat compared to the Content and Structure -tool. If you move the file outside the library, it'll break not only the durable links (which seem to always only work inside the library) but also change the document id of the moved file. Using the Content and Structure tool to move the documents inside a site (so even between libraries) should retain the document id.
And, as usual, this removal of functionality only happens in SharePoint Online. For On-Premises, you're still free to do whatever you want. Even the newest kid on the block, SharePoint 2019, seems to retain this functionality (but I'll need to verify this).
For more info (in a fairly informal way) about the durable links, check out this conversation:

Source: https://techcommunity.microsoft.com/t5/SharePoint/DOCUMENT-ID-Durable-links-in-SPO-not-working-at-all/td-p/200348
More info about using the "Move To"-functionality, and how it breaks the links.
If you want to learn more about Document IDs and how they work, I recommend this great post by Joanne C Klein. Another great example of how to use them to your advantage would be this article by Richard Skinner.
The Official Statement by Microsoft
The full statement by Microsoft (it should be visible also in your Admin Center):
MC143382 | Stay Informed
Published On : June 28, 2018


Based on customer feedback, we are making some changes in how we are going to approach replacing Site Content and Structure in SharePoint Online with native File Move and Copy capabilities. Starting in October 2018 the Site Content and Structure page will no longer be supported or receive feature updates; however, it will remain accessible for site collection administrators to use until March 2019.


How does this affect me?


SharePoint Online uses the Site Content and Structure page to manage both the content and structure of your SharePoint site collection. This page is available only when SharePoint Server Publishing Infrastructure is an activated site collection feature. While this page provides a basic mechanism for managing content and structure, we are investing our development resources to introduce and develop advanced capabilities such as File Move and Copy.

In addition, we will continue modernizing the Team Site experience, allowing features like File Move and Copy to enhance content management for your organization.


Starting in October, only site collection administrators will still be able to use the Site Content and Structure page. This limited availability will remain in place until March 2019, at which time the Site Content and Structure page will be fully retired.


What do I need to do to prepare for this change?


If your organization is using the Site Content and Structure page, we recommend your organization starts using File Copy and Move. Also, you may want to update your internal documentation and training resources.


See more info (a whole, fairly informal conversation) https://techcommunity.microsoft.com/t5/SharePoint/regarding-Site-Content-and-Structure-in-SharePoint-Online/td-p/277835

From Office 365 Admin Portal advisories
---
That's all for now, folks! Another day, another interesting functionality in SharePoint. :)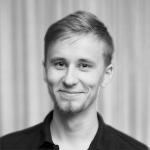 Latest posts by Antti K. Koskela
(see all)