This post was most recently updated on August 26th, 2022.
6
min read.
So the interesting news is not over – Microsoft recently announced that their personal blogging platform for Office 365, Delve Blogs, is getting retired. Now it turns out Classic SharePoint blogs are also getting cut. This leaves some organizations in a bit of a tough spot – what to use for blogging from now on?
In this article, I'm taking a look at what brought us here, and thinking about our next steps from here on forward.
Background
Okay, then – what brought us here? In my mind, it's all fairly logical: Microsoft is just (somewhat) gently pushing organizations away from using the oldest tech they're offering.
Personally, it's easy for me to see why Microsoft is pushing its customers away from Classic SharePoint. With Modern – or rather, Current SharePoint – Microsoft has been able to get rid of some of the baggage they had with all of the legacy code hanging around since the 90s.

However, I'm rather surprised by the order of the deprecations! Since Microsoft's biggest griefs (to my mind) have been with Publishing Infrastructure, I would've expected the deprecations to start there. But no – they're actually taking away simple, non-publishing tools and channels instead!
However – let's take a step back. What is Microsoft saying about the change? The below is copypasted from Office 365 Admin Message Center:
Retirement of SharePoint classic and Delve blogs

MC197403, Plan For Change, Published date: 4 Dec 2019
Major Update: Announcement
Applies To: All customers

SharePoint classic blogs and Delve blogs are being retired. Existing SharePoint classic blogs will continue to work as expected, including the ability to create new posts, but you will not be able to create new blog sites after a period of time.

Delve blogs will no longer be available for creation, and existing blogs will eventually be removed, after an extended period of read only access.

How does this affect me?

If you use SharePoint classic blogs, be aware that:

Beginning January 18th, 2020, the classic blog site template name will change to "Blogs (retired)".
Beginning July 17th, 2020, the ability to create new classic blog sites through the user interface will be turned off.

If you use Delve blogs, be aware that:

Beginning January 18th, 2020, tenants will not have the ability to create new Delve blogs.
Beginning February 18th, 2020 the ability to create new, or edit existing posts, in existing Delve blogs will be disabled.
Beginning July 17th, 2020, existing Delve blogs will be deleted and removed from Delve profiles.

What do I need to do to prepare for this change?

Plan to use alternative methods of blogging. We recommend creating Communication sites using News, Yammer, and Stream as a modern way of engaging with your audience.

See this article on how to setup a great blogging site: Creating a blog with communications sites and news posts

If you'd like to transition your existing blog content to a modern communication site, that is possible using the community supported PnP Page transformation tool, available here: Modernize Delve blogs and classic blogs

Office 365 Admin Message Center
---
So, in short, both Delve blogs and Classic SharePoint blogs are going away, and you need to move somewhere. Microsoft recommends Modern Communication sites – essentially by publishing News articles on them, and using Stream and Yammer to host different content and conversations on them (as normal SharePoint comments are very lightweight – Yammer does indeed provide a lot of value there).
While Delve blogs timeline includes the actual deletion of customer data (we'll see whether Microsoft will actually follow through though!), for Classic SharePoint blog sites it's not on the map at all. Sites will still be functional, just you can't create new ones. That part at least is great.
However, you still need to do something – right?
How to replace Classic / Delve blogs?
Ahh, technically speaking, it's not that difficult. You got a few developers or a PowerShell guru, give them a few days and your blogs are going to be good with almost any kind of a migration or transformation. There's a bunch of APIs, some PowerShell commandlets – so it just takes someone motivated to hack together whatever's needed.
However, like so many other changes, moving away from SharePoint blogs and adopting a new tool instead is not just a technological challenge – it's also a cultural one. Maybe even mainly so.
Whatever change you're planning, needs to be accepted by your organization's members. That is, the people actually using the tool that you're replacing!
A flawless migration would be a huge step that'll help your peers/users to accept a new tool, whatever it'll be – but that's a simple technical challenge that's fairly easily fixed. For Delve blogs, something like this, for example:
Anyway, before you're ready to plan the adoption of your new tool or even think about the migration, you need to know where you're going to. What's going to be the best option for your users? What's the new tool going to be?
Thinking about what's left on the stack – well, not much. Modern SharePoint Communication sites are definitely an option. They, with the toolset and integrations they come with, are also what Microsoft recommends.
Sharing editor responsibilities between multiple users isn't super straightforward, but it's doable. But if you have a few dozen active users, they might not all agree on the branding, metadata, publishing schedule, and whatnot – so they'll need more independence.
On Classic, this would easily be solvable with either Delve blogs (sigh), or by creating multiple blog sites. You could even have a "blog collection" or a "blogging center" – a site collection with multiple subsites of the "Blog" template, and then roll up all the latest blog posts to the home page.
However, with the template getting retired, you can neither do this on Classic or Modern anymore.
How about using Sway as a blogging platform?
Microsoft Sway has a fairly enthusiastic core user base, and it seems to generally speaking be a well-liked product. It's not surprising, that you can read discussions and UserVoice items online on how to best use Sway as a blogging platform! So how would we go about replacing Classic SharePoint blog sites and Delve blogs with Sway?
What an enticing idea – Sways (or "Sway presentations" – that just sounds like "Flow flows" to me, but that's how it's officially communicated!) are visually appealing, easy to create and fun to browse. They'd serve as a perfect replacement over Delve blogs, and as quite an improvement over (Classic) SharePoint blogs. The editor experience in many cases is also far nicer than with Modern SharePoint. Great choice then, right?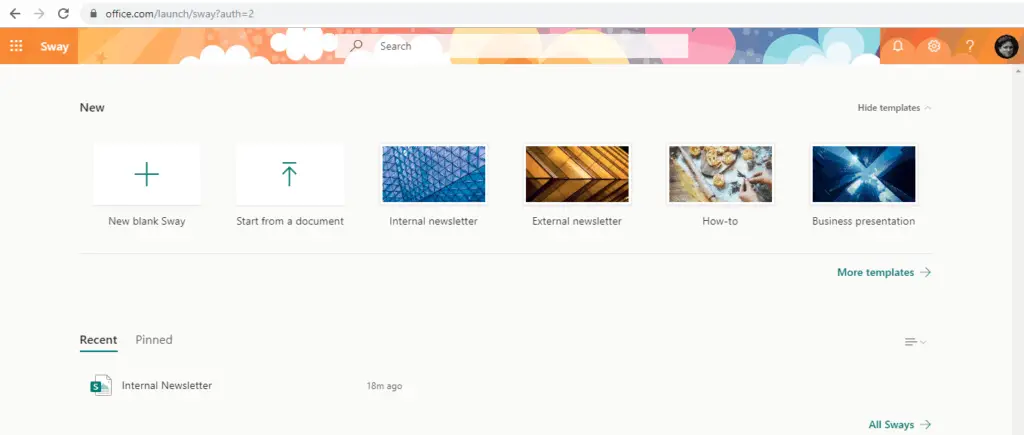 Well, I suppose. But Sway has also been a weird, one-off implementation to test drive some tech before completely abandoning the new tool, and implementing the ideas somewhere else. Sway has gotten zero significant improvements since its introduction – my guess is that it's going Delve blogs' way real soon.
The latest implemented UserVoice item for Microsoft Sway is dated in March 2018. That's almost 2 years ago! Much like with Delve blogs, it seems like there's no further development, and practically no support staff left either for Sway.
As a further cause of headache, Sway contents are also not currently discoverable by SharePoint Search, as they're saved directly to Azure (blob storage, I suppose), and they're not easily shared (basically, you either embed the presentation or send a link to someone), and whereas originally Sway seemed like a cool lightweight replacement for bloated PowerPoint, the innovation with PowerPoint never stopped, and is frankly quite impressive lately!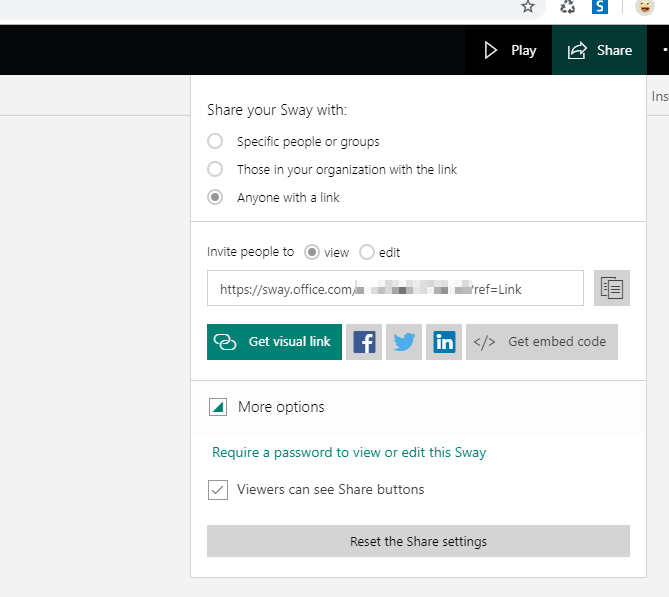 Additionally, Microsoft has already retired the easiest way to share Sways – docs.com – so your sways are pretty much in another silo. Even more so than Delve blogs ever were – at least you could get them using SharePoint Search!
Even the official Sway blog is all but dead – the latest 2 blog posts are as follows:
30.5.2018: Improvements to the iOS app!
21.8.2018: The sway app for iOS is going away.
And only silence after that – for almost 2 years now. So yes, I wouldn't invest in Sway.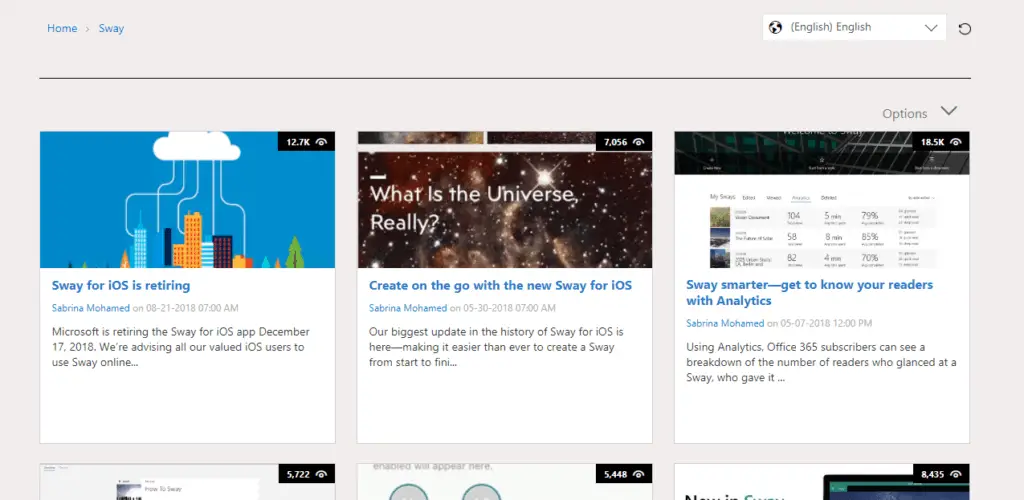 What to do, then?
My recommendation? Go with the Communication sites, and let your users go wild – if they're active and enthusiastic with the tools they have access to, that's great. In IT, it's our task to be enablers, after all!
Don't worry too much about them creating Communication sites for their blogging needs – let your users create content freely, and rather encourage that. Manage the sprawl by analyzing the usage of the sites and archive them if need be. Syndicate contents from multiple sources to somewhere on your intranet – even your SharePoint home site – by using search web parts.
However, if Modern Communication sites won't work for you, Sway is fairly unusable, Classic blogs and Delve blogs are going away, what's left?
Well, nothing is going to stop you from setting up a dedicated blogging platform, internally if need be. WordPress, for example, is free and requires almost no infrastructure. You can limit access to only your network, or leave your posts available only to logged-in users (and even use Azure AD for logging in!)
References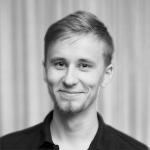 Latest posts by Antti K. Koskela
(see all)