This post was most recently updated on April 28th, 2022.
2
min read.
Exciting news right after the Easter break (and a bit of a change from the usual flow of technical stuff) – I've joined the Omnia team at Precio Fishbone.
Over the last 12 months, I have been working mostly on Azure IoT projects and was already debating renaming the blog. The title #SharePointProblems matches the content poorly when most of my new posts are about Docker, Azure DevOps, or Entity Framework.
But to those of you worrying about my blog's Search Engine Optimization, I have great news! Joining Omnia will bring me right back to the beautiful world of SharePoint, and I'm looking forward to posting more in the future about my thoughtful workarounds in that space! 😁
New chapter
First things first: thanks to my (now former) colleagues at Etteplan! Working with you made for a fun year, and I learned a lot from you. I enjoyed the chance to work on something completely new, and the IoT projects were a nice challenge. Whilst working in large organizations might not be my cup of tea, I'm happy that I gave it a try.
While I've worked with fairly international teams since 2017 (when I moved to the United States), this is the first truly non-Finnish company that I am working for, which is quite an exciting change for me.
For Omnia, I'm joining the development team, although I'm expecting my role to be a similar hodge-podge that it's pretty much always been.
What is Omnia?
Omnia is an award-winning digital workplace solution with impressive personalization & customization options and a lot of focus on user experience.
Building on top of Office/Microsoft 365, Omnia benefits from the strengths of Microsoft's platform and improves some of the perhaps slightly neglected facets of the platform like frontline worker usage, performance, UI customization, and content targeting.
After working on customer projects for a year, it's cool to be back in a product company. 😁
Until early 2021 I worked for Omnia's Finnish, also award-winning competitor, Valo. It's been interesting to see the different approaches that 2 companies can take when solving similar problems for their end customers.
Feeling out of touch
Let me be completely frank with you for just a second. I think I'm actually quite out of touch:
I went all the way to Stockholm to meet the team and forgot to take any selfies. No selfies with the team. No dinner selfies. No beer selfies. Not even a single selfie with the company logo…
A couple of years of not traveling has made me fairly feral when I forget such a pivotal part of any business trip!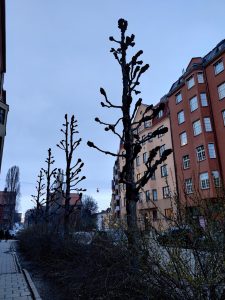 Selfies weren't the only photography style I neglected. Here's pretty much the only photo I took of Stockholm. A funky-looking tree near the office.
Oh well – Stockholm looks pretty much like Helsinki anyway 😏
Anyway. We'll get back to our regularly scheduled programming next week.
In the meantime, I've got articles about Azure Functions, Azure DevOps, Postgres, and a few other topics I need to finish…
Until then!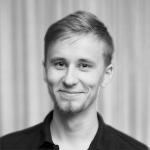 Latest posts by Antti K. Koskela
(see all)