This post was most recently updated on August 1st, 2020.
8
min read.
When I started this blog in 2015 as a place to stash my, eh, thoughtful workarounds, I didn't think I'd ever hit 200 live articles (with another hundred still in draft mode). Or that I'd get half a million people reading them in a year! Man, I didn't know either one of these things when I was writing my 2018 review, which feels like was just a moment ago.
Taking a look a bit further back, year 2017 living, working and traveling in the United States was an absolute blast, and with the move to Canada and becoming a father, 2018 was a pretty wild ride as well. But back to 2019.
---
What. A. Year.
I've seen a lot of people writing "decade reviews". During the decade, I got married, went through university, had a couple of jobs, lived in 3 countries, visited 40 states, bought 2 places, had a dog, had a kid – it's just too much for one blog post. Even just last year or so has been… A lot.
In short, 2019 was another year of rapid-fire changes and surprises, and it's time to post a few thoughts about it – and some personal goals for 2020! And as has become almost a tradition already, I'll be posting some of the visitor statistics of 2019 as well.
I'm not sure whether this kind of data interest anyone – but it's still an interesting bit of self-reflection, so why not write about it. And maybe some of this will also motivate someone to start tech blogging – you can get a lot of readers for your blog posts even if you're not writing about super relevant topics like glitter, vacations in Greece and newest lip gloss trends.
Anyway. Where did the readers – that's you! – come from, this year?
Well, from all around the world, really. Except, despite it being my fatherland, I've never had that many visitors from Finland.
Last year, Finland was number 17 on the list – now only 28th. I get double the amount of visitors from Sweden, for example! Even my audience is bara lite bättre on the other side of the Gulf… 😅
Although, we could also be suffering from a saturated market in Finland. There's plenty of brilliant tech bloggers in this small nation.
Anyway, once again, the top 3 is United States, India and UK. Kinda like last year. My former home country Canada is also number 5 on the list, which is cool to see!
Which countries do visitors to koskila.net come from?
United States
India
United Kingdom
Germany
Canada
Australia
Netherlands
France
Brazil
Sweden
Poland
Spain
Italy
Turkey
Vietnam
Belgium
Russia
Switzerland
Denmark
Singapore
Japan
Norway
Ukraine
South Africa
Mexico
Philippines
Thailand
Finland
Pakistan
New Zealand
The "long tail" is definitely long. There's plenty of countries with <10 visitors, but most are between 100-1000.
Even Moldova sent some 255 visitors – Za vas!
---
Drilling further down, Bengaluru, London, Hyberabad, Chicago and Pune hold the top 5 positions of cities or metropolitan areas. And it's amazing, that unlike just a couple of years ago, I now know people from pretty much all of these places!
There only seems to be a handful of countries where people don't struggle with Azure AD, Office 365 or DateTime formatting in ASP.NET Core. The only way I'm figuring this out is that nobody from these countries is visiting my site… :) In short, these countries (in 2019) are as follows:
Leaderboard: Which countries are NOTstruggling with SharePoint?
North Korea
Central African Republic
French Guyana
Vatican
Eritrea
Guinea Bissau
Solomon Islands
Nauru
Marshall Islands
Tuvalu
Hats off to these great nations.
---
Asking Alexa for some stats (just like last year), she revealed my blog is something like 270 000th most popular website in the world. I really don't know what to make of that.
Curiously, the site is comparably popular in Egypt, Turkey and India! Alexa does get the "visitors by Country" wrong my a mile, though…

---
One of my favorite stats that Google Analytics exposes, is the network info. It's always a lot of fun to see where my visitors come from!
Cheers to all 10k visitors from Microsoft last year! Sorry to bash your documentation every now and then. I'm trying to find the time to improve it whenever I can – appreciate y'all open-sourcing (I almost wrote "outsourcing", but I suppose that would be unfair) a lot of the dev docs.
Oh, and I love the fact the 5th most accessed page on my site by visitors from Microsoft is this poorly documented thoughtful workaround for an extremely misleading error in their own product… ;)

Oh well – sorry for rubbing it in!
And whoever are the over 1k people at Amazon googling for help with SharePoint, please know I feel you. Hang in there.
Oh, and major thumbs up to almost 1k folks from Digital Ocean visiting the site! Keep up the great work with Hacktoberfest! :)
There's a ton of other interesting organizations – Statoil, Google, IBM, Ford Motor Company, JP Morgan, Tieto, Walmart – and thousands of others, but I'm just going to say this for everyone visiting:
Thanks for visiting the site in 2019. I wish you found what you needed, but hope to see you again in 2020!
---
Now that we've got the stats out of the way, let's go the next topic: 2019. What happened?
2019: Turning over yet another new leaf!
You know how some years just go according to the plan? You're simply going through the motions and the year just happens, step by step.
Well, 2019 definitely wasn't one of those years for me (and my family). It was great, but also very hectic, and full of surprises.
We started the year in Finland, after flying there from Canada with a barely-legal-to-fly baby and a close-air-emotional-support dog Miina, made the painful decision to leave her behind in Finland when returning to our home in Montréal (the dog, that is), made an almost as painful a decision to quit adventuring and move back to Finland at the end of the summer ourselves, bought a house and started renovating it, had some 10% of our belongings broken while moving continents (I'm happy the moving company had an insurance), my wife changed jobs (I'm no longer married to an ERP consultant, she's an online learning system training coordinator now), I traveled to a bunch of conferences and work ended up being fairly exciting too (especially with the MVP award in November)!
Anyway, that's a ton of life in just one paragraph. In short, 2019 was busy, fun, and pretty exhausting.
While living in Canada and USA, we made some awesome friends and great memories. Drove Route 66, crossed the Rockies a few times, saw all Great Lakes, visited Mt. Rushmore, saw Niagara Falls from 2 different countries, tailgated to a Brewers game, drank too much bad craft beer (separate incidents, mind you), got lost on the country roads, had a lunch in the middle of a Buffalo herd… You know, the stuff you should do.
But only Change is constant. And while my accommodations just changed quite a bit, my job is changing, too.
Valo – brighter than ever.
I'm staying with Valo, but instead of bringing the Light to masses, I'll be more focused on making sure it actually stays bright.
I've been lucky enough to get to work for this amazing company on 2 different continents, 3 different countries and 4 different cities (remote work notwithstanding) – and now returning to my roots: getting back into primarily software development.
As some of you know, I switched back to the role of a software architect again, as opposed to the primarily partner support -role I've been in for almost 3 years. Although perhaps it's been obvious from the increase in .NET Core and Blazor -themed articles lately.. :)
Is that a big change? Not really. The team is very cross-functional anyway. A bit less Skype, a little more Visual Studio. Hopefully I'll be able to concentrate on coding more than I've been able to since late 2016, joining the support team and moving to United States.
And what's going to happen in 2020? Ehh, after everything that's happened since 2016, I don't know if it's worth making any forecasts or promises… 😄😅
Okay, okay. So 2019 was borderline tumultuous – in 2020, I hope it'll be slightly smoother sailing. I have never been a big fan of New Year's resolutions – but even then, why not try to make a few and make some of my goals public?
So, long story short, I have a few big challenges I'm trying to crack next year:
1. Achieve a better work-life balance.
Last few years have been crazy. Now it's time to concentrate a bit more on the family.
Goal 1: Burn through most of my time-in-lieu and organize work well enough not to accrue more hours.
I'll be starting the year by taking January off to spend some time with my daughter, and overall I'm planning to take more time off than I have since 2016. I'll be blogging while she's napping.
2. Write better, write more.
I'm following a number of different community members' blogs – and I admire the way some of them write and interact with their audiences. I'm going to keep documenting the workarounds just like before, but I'll be also improving the articles regularly.
But these goals need to be quantified – otherwise, it's tough to follow up on them. So let's try something like this:
Goal: 2 articles per month, an article out of any meaningful OSS contribution, and respond to all comments in a week or less.
2 articles per month has been my goal in 2019 as well – and I fulfilled it – but let's try to maintain the active comments -section too! The Open Source contributions, I think, are also worth documenting – so let's see if I can't find the time to blog about any interesting stuff there as well!
But you need to keep me in check. Please do provide me with feedback about my articles (and workarounds)!
3. Collaborate more.
I can be a bit introverted – I often find it a bit difficult to work with other people, and instead just prefer to do everything by myself, as that saves me from unnecessary overhead (and socializing).
But we all know the old proverb – "If you want to go fast, go alone. If you want to go far, go together."
"If you want to go fast, go alone. If you want to go far, go together."
– old African proverb
Let's see if I can't challenge myself in 2020, even more than I did in 2019!
Goal 3: More collaboration on live sessions & Finding an online community that I feel comfortable participating in.
Get in touch with me, if you've got any cool ideas! 😁
---
Anyway, this blog is going to continue as it is! Probably more posts about .NET and a bit fewer about Azure AD, but that's about it :)
As usual, I'll keep y'all posted! Thanks for 2019, and have an awesome 2020!
---
References
You wouldn't believe it, but the photos in this post are in fact not from Valo's Montreal office. They're instead wonderful stock photos by Canadian Internet Registration Authority.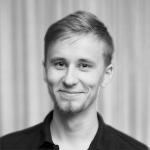 Latest posts by Antti K. Koskela
(see all)