This post was most recently updated on July 31st, 2022.
5
min read.
This is part 2 in my "One web developer's story about the downfall of web hosting" series – a frustrating firsthand experience with a formerly-great web hosting provider taken over by EIG (Endurance International Group). You can find the first post here:
EIG/Site5 review – Part 1, experience with Site5 before and after EIG takeover
I was able to actually get most of the money EIG got from me back from them by opening a Visa claim. In this short post, I'll try to explain how you can stop your money from being funneled to EIG's greedy hands… Even if your hosting provider was taken over by them.
What happened to Site5 (and others that were acquired/savaged by EIG)?
I was a customer of Site5 pretty happily for a long time, until Endurance International Group (EIG) took them over, wrecked their infrastructure, likely moved all of the customer data outside the EU (which is against our laws), and let all of the customer support staff go. Site5 was not a cheap service provider, so I hated to see I was paying for premium service but receiving potatoes instead. And of course, it was sad to see a once prominent web hosting provider fall to pieces like that.
My earlier post describes my experiences with them a little more accurately. This post – like Part 1 – could probably be written about many other brands of web hosting, too. But truthfully, EIG's acquisition spree has been so extensive that it's difficult to avoid them altogether nowadays – but if you do, you save yourself from quite a few grey hairs!
Avoid EIG to avoid unnecessary trouble with your web hosting
First of all, avoid brands owned by EIG. They are generally cheap, but not worth the extra work and the lack of support. With Site5, after the "old" support staff got fired, it started to take the current staff months to respond to anything and most messages. In my experience, only billing questions were answered quickly, and the response is typically that "everything works as expected, uptime is 99.8%, no refunds."
Funnily enough, it seems that their slowness has only gotten worse after the initial shock, so I'm guessing their backlog is just growing and growing. I got a response from someone to my ticket about email service being down roughly 2 months after I had canceled my service. That's around 4 months after I opened the ticket… And that was the first, non-automated response to the ticket.
They did also ask for feedback, which I tried to send them (by simply responding to email, because I surely wouldn't fill any forms with PII for them). That email didn't go through, because they hadn't configured the feedback system to handle emails – which, again, is very descriptive of them.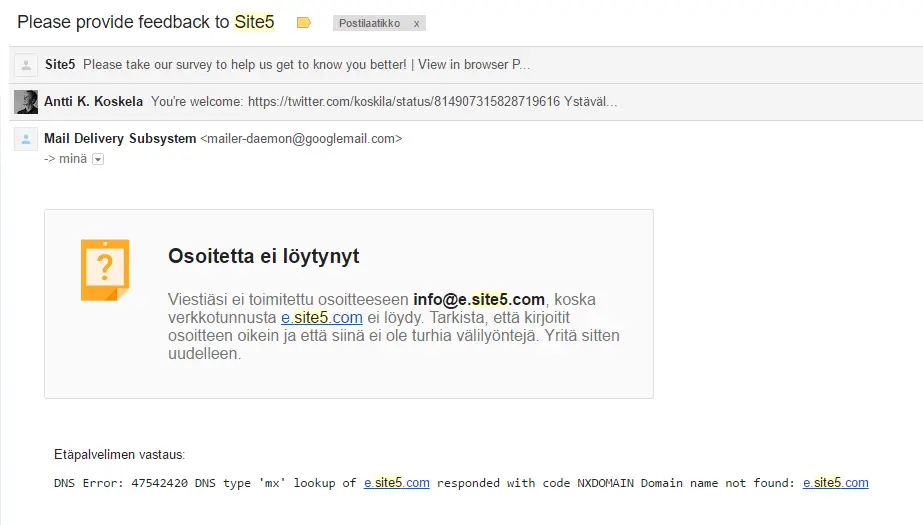 That email feedback not going through is luckily a great excuse for me to rant on my blog. And I'm fine with that.
How to get your money back afterward?
Be sure to let them know that you're not satisfied with the service, and document what you're saying. I had complained about the actual outages and the smaller issues with the servers, and about the fact it took weeks to months for them to respond to any tickets. That means, that luckily I had a real "document trail" that I could show to my bank! This helped them understand how everything was falling apart, and that I wasn't getting any service for the money I had paid.
After realizing that the game was over for Site5, I started looking at other options. It took me a moment to find another web hosting provider, but after the migration away from EIG/Site5, you can safely cancel your service with Site5.
Reporting the issue and opening the claim case
I reported all of this to my bank and issued a Visa claim. The report contained a lot of screenshots, and information about the outages (mainly from Jetpack or other external sources, as Site5's own diagnostics showed 99.8% uptime. I also got a confirmation from Site5's customer representative, that their uptime only measured the time the server was turned on – so it could be disconnected from the internet completely, or all the services could be down, but it would still be considered "up" by Site5, as long as it had power on. A screenshot of this email probably helped the bank evaluate the situation.
I did also argue, that I never signed any contracts with EIG, so my money should never have been sent to them. Bear in mind, that EIG was now operating under the bought name of Site5 – but the staff and at least parts of the infrastructure were EIG's. I'm pretty sure that argument doesn't really work… In a business takeover like that, pre-existing contracts just usually are handed over to the new owner. Still, I wanted to buy my service from Amsterdam, and from a quality provider. Instead, what I got was a potato provider (likely HostGator's data center) from Texas.
Verdict
It took my bank (and probably Visa) a few months to handle the case. In the end, they ended up issuing me a partial (but significant) refund, which was pretty much what I was looking for.
Even though EIG had acquired Site5 early in my billing period, the problems started months later. I got refunded roughly for all the time after Site5 support staff had been let go. That was fine with me, as that date marked the point, after which the service quality completely plummeted.
My Finnish bank (S-Pankki) handled this case very well. I'd imagine it has to be confusing for them to handle issues like this without much domain knowledge. My reports contained information such as uptime, which probably isn't very clear to them. But everything went well with them, so that's good.
---
I hope this post can encourage someone else to issue a Visa claim too, to get their money back. You're probably not getting your money's worth from EIG-owned providers, so you'd be better off paying a decent provider. And hey – maybe, if enough people vote with their wallets, EIG will do something to improve their service levels, too! :)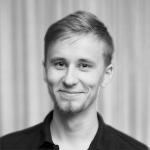 Latest posts by Antti K. Koskela
(see all)