This post was most recently updated on June 8th, 2019.
Reading Time:
5
minutes.
This post describes the status of an ongoing issue in SharePoint Online, where the Managed Property "PictureThumbnailURL" will return null no matter what you do. This Managed Property is used for a few different use cases – most notably, Delve blog post's hero, or header photo's URL is mapped to this property, as it's meant to be used as a thumbnail picture in a number of rollups.
Update 9.1.2019: Microsoft confirmed they're testing a possible fix to the problem. I'll update this post as more information comes out – check out the Timeline below for more info & updates!
Update 31.1.2019: This issue seems to have finally been (mostly) fixed! See the details at the bottom of the page!
Update 6.2.2019: Added instructions on how to get it working if it's not automatically fixed for your environment!
Description of the issue
We've been observing an issue in SharePoint Online's Search Index, where the Managed Property "PictureThumbnailURL" is always null, no matter what values the crawled properties it's mapped to might contain.
The issue seems to have first appeared a few months ago. The first time we encountered it was maybe around July, 2018. Microsoft probably made some changes in SharePoint Search schema, and the property "PictureThumbnailURL" wouldn't get values anymore. Pre-existing values were conserved, though.
All things considered, this does not seem like an intentional change.
Scope of the issue
This unfortunate change might break some 3rd party functionalities, and of course will make search results not display pictures. Returned results like Delve blog posts won't show any thumbnails anymore – see an example below.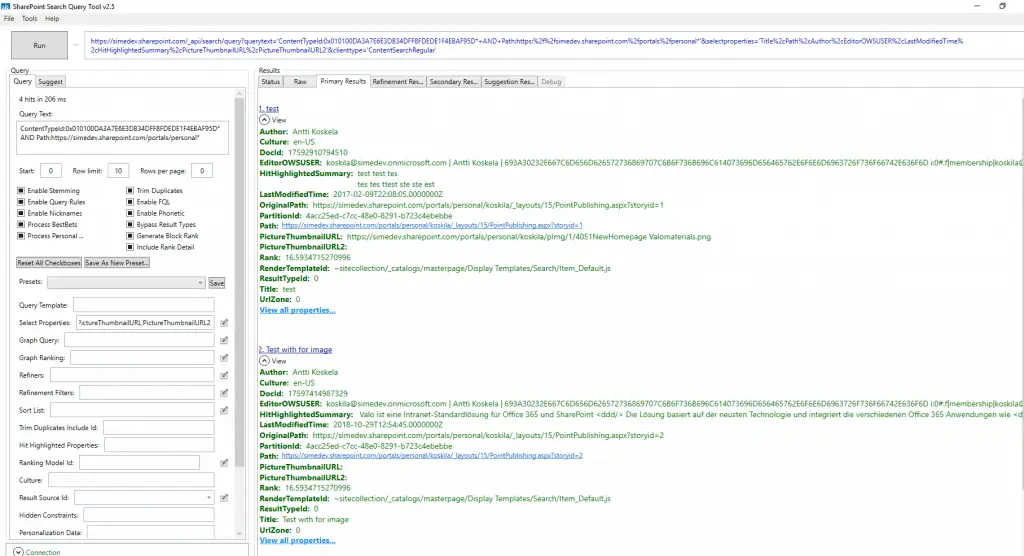 In the screenshot above, you can see properties "PictureThumbnailURL" (out-of-the-box managed property) and "PictureThumbnailURL2" (a property I created). The created property has mappings to same crawled properties as the out-of-the-box one. However, it's not getting those values either.
The older post (published in early 2017) has a value for the PictureThumbnailURL. Apparently, the header photo has been succesfully crawled. The newer post (published in October 2018) has no value for the PictureThumbnailURL. Neither of them have value for the Managed Property I created afterwards, PictureThumbnailURL2.
Right now (November 2018), this indexing issue seems to affect most, if not all, of the dozens of SharePoint Online tenants I've seen in the last months.
Solution
This was yet another case, where there's nothing a customer or a consultant can do, but wait for Microsoft to fix the case. Took them a while, but they eventually delivered! The Timeline below describes the updates along the way.
While the progress was a bit slow, I appreciate the honesty and sense of humor my support rep seems to have :)
But even after Microsoft's fix, the issue is not automatically applied to your older, pre-existing content! However, with a few steps you'll be able to get this working for your older stuff.
See below on the necessary steps you need to take.
How to apply the fix to your environment?
This is pretty simple! Since the fix has already been deployed to Microsoft's servers, any new content will work automatically. Any new Delve blog posts will have their thumbnails automatically crawled just fine!
However, for older content, it doesn't seem to be as straightforward. Based on my testing and a chat with Microsoft's folks, you have 2 options:
How to fix PictureThumbnailURL for your Delve blogs
You'll need to modify the posts that aren't working.

This can be done by opening the Delve blog post, changing any contents, and saving & publishing. This might not be what you want, as it changes the modification date for what's effectively NOT a modification.

You can open a ticket with Microsoft Support, and demand a reindex of your Delve blog posts.

According to Microsoft, sometimes their fix won't work for pre-existing sites, and their picture thumbnail urls will stay as nulls.
Microsoft can fix this – probably by giving the Search indexing component a good kick. After that, it should work!
When opening a ticket, you may refer this blog post to the Support personnel – they should be able to find the ticket I opened with the ticket ID #12047553.
Lastly, if it looks like the issue is not resolved on your tenant, I encourage you to open a new ticket about the case using Office365 Admin Portal's Support-section. It's entirely possible that they're deploying the fix to different tenants (farms) at a different pace – or that there are multiple issues.
Timeline
I'll be logging here, how the investigation progresses.
Summer 2018:

Microsoft deploys an update, that breaks the indexing component and stops populating values for some managed properties (at least PictureThumbnailURL).

October 2018:

We realize there's an issue, and after internal investigation, report it to Microsoft.

November 2018:

Microsoft first assigns the issue to Delve team, then after some confusion closes the ticket, reopens it after my protest and assigns to what I think is their SharePoint Search team.

12.12.2018

Microsoft posts an update and informs me, that the issue now has a "higher priority".

9.1.2019

Microsoft confirms they've developed a possible fix and are testing it.

14.1.2019

Microsoft posts an update to let me know the testing isn't going very well, but they're working on it.

17.1.2019

Microsoft lets me know the issue has now been resolved. I let them know it isn't.

18.1.2019

Microsoft lets me know, that the issue was more complex than they thought.

31.1.2019

Microsoft lets me know they've deployed another fix. After some testing, this one seems to work!
Issue is finally resolved, then!
Antti Koskela is a proud digital native nomadic millenial full stack developer (is that enough funny buzzwords? That's definitely enough funny buzzwords!), who works as a Solutions Architect for Valo Intranet, the product that will make you fall in love with your intranet. Working with the global partner network, he's responsible for the success of Valo deployments happening all around the world.

He's been a developer from 2004 (starting with PHP and Java), and he's been bending and twisting SharePoint into different shapes since MOSS. Nowadays he's not only working on SharePoint, but also on .NET projects, Azure, Office 365 and a lot of other stuff.

This is his personal professional (e.g. professional, but definitely personal) blog.
Latest posts by Antti K. Koskela (see all)