I'm a Finnish Software Developer Entrepreneur living as a hermit on the beautiful Finnish countryside. Koskila.net is my personal professional (i.e. professional, but definitely personal) website.
More about me here: Koskila.net | Antti K. Koskela
On this site, I'm blogging about all kinds of exciting and/or tricky topics. Mostly just to write them down for myself. See a few of my latest blog articles below:
---
How to find out dependency versions in your .csproj files using PowerShell?

This article explains our solution to a very particular use case. We needed to go through .csproj files, find certain dependencies from them, and then figure out their versions. And all of this needed to happen in an Azure DevOps pipeline. But when would this be helpful? Well, hear me …

Read more

node build throwing "error:0308010C:digital envelope routines::unsupported"? Let's fix it!

This article explains how to fix an annoying error – somewhat along the lines of "error:0308010C:digital envelope routines::unsupported" – you might encounter when running node scripts. This might happen in a pipeline or locally. And guess what: you can probably fix it. Alright. Let's get to it, then! Problem So …

Read more

"This app can't run on your PC" dialog when you're building your app in Visual Studio

This article explains a fix to an odd issue, where suddenly, mid-build, an error dialog pops up, complaining about your PC being unable to run "this app". The fix is luckily straightforward, even if it's a bit odd. Let me explain – but first, let's define the issue a bit …

Read more
---
What's koskila.net about?
The tagline for my blogging efforts has been Solutions are worthless unless shared for quite a while already. That's to say, since I've gotten a lot of help from the community whenever I've had issues getting something to work, I like to give something back. This blog is my way of doing that.
Blogging has been a great, lightweight way to sort my thoughts and document weird fixes and findings along the way. And boy, has there been a lot of them! Microsoft's stack always keeps surprising me – mostly in a positive way, but there's an occasional bump on the way too.
These are some of the topics I often write about: Azure Active Directory errors, Azure PowerShell errors, terrifying examples about how to open a modal dialog in SharePoint using JavaScript, all kinds of weird new Microsoft Azure -related tidbits of information, a bunch of Visual Studio -related (and other) tips and tricks, and of course the blog's namesake – SharePoint Problems.
A lot of people seem to struggle with the same issues, as the blog nowadays has around 70 000 visitors monthly. May you find my thoughtful workarounds as useful as I have!
In addition to more technical posts, sometimes I might post about my sessions at different community events, or experiences as an expat living in a foreign country (in 2017, that country was the USA, in 2018 & 2019 Canada). Right before the pandemic, I moved back to Finland to live in the middle of a forest. Quite literally, as I need to somewhat regularly scare moose away or they'll eat our apples and trample my robot . Our pests are large.
---
Speaking Gigs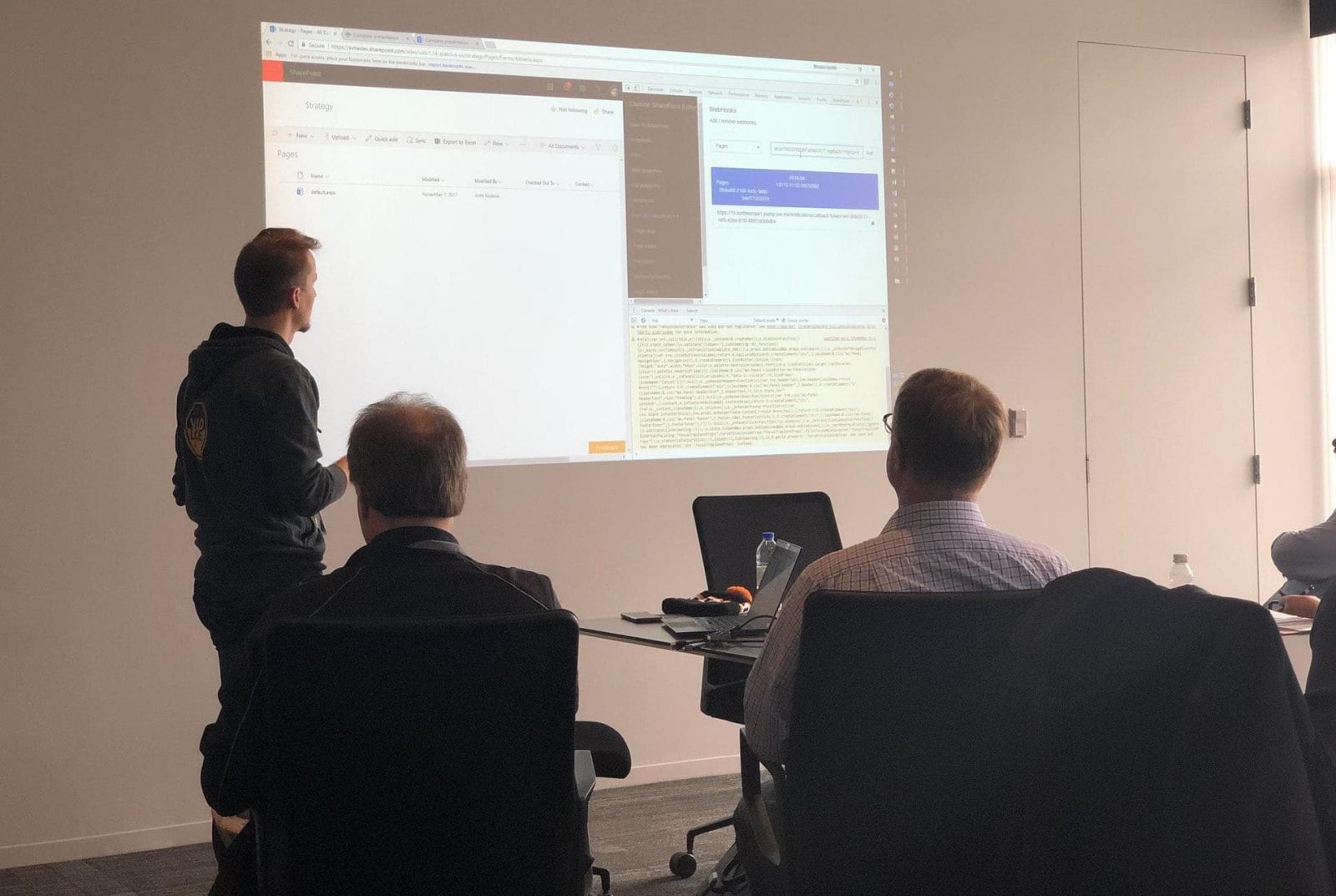 ---
No upcoming engagements. I've cut down traveling due to the pandemic.
---
Want to learn more? Check out the about me -page, page/post archive, the list of my blog posts (latest first) or contact me! :)