Antti K. Koskela is a Finnish Software Developer / Generally Geeky Person working as a Cloud Solutions Architect for Etteplan, living as a hermit in the beautiful Finnish countryside. Koskila.net is his personal professional (i.e. professional, but definitely personal) website.
Okay, let's drop the third person speech. You can read more about me and stuff I do from here: https://www.koskila.net/antti-koskela/
In addition to this being my personal home page (nowadays, I guess that means a catalogue and links to my other stuff online in different channels, right?), I'm blogging about all kinds of exciting and/or tricky topics.
See a few of my latest blog articles below:
---
How to modify CORS settings using a .htaccess file

Recently, I needed to host a web-based thingamajiggy in WordPress and needed to include a couple of custom libraries. For the sake of quick iteration, I decided to use a public FTP folder I already had on the same server to host this. So I had configured a subdomain to host the files, and wanted to reference them from my WordPress site. Not quite a CDN, but something a little bit like that. Well, of course, I ran into an issue again. At least this…

Continue reading

How to modify CORS settings using a .htaccess file

How to solve Vmmem consuming ungodly amounts of RAM when running Docker on WSL?

This was another (luckily pretty shallow) rabbit hole down some corporate IT and weird default configurations by our favorite tech-daddy Microsoft. In the article, I'll describe one possible reason for a process called Vmmem.exe consuming enough RAM to crash pretty much everything else running on your machine. But let's take a step back first – what happened? Problem I was developing some Azure IoT Edge modules (as one does), when my dev laptop was starting to feel a bit sluggish. That's nothing out of the…

Continue reading

How to solve Vmmem consuming ungodly amounts of RAM when running Docker on WSL?

2021 – Year Review!

Well, it's been a year. Certainly doesn't feel like it'd been a whole 12 months since I last wrote one of these, you know? I failed every single one of the goals I set for 2021, but I'm not going to lie, family takes (and deserves) so much time it's no wonder hobbies suffer a bit. But still – writing these year reviews has become a tradition, so without further ado – let's get to it! 😁 Website stats Posts Related to "2021 – Year…

Continue reading

2021 – Year Review!
---
What's koskila.net about?
The tagline for my blogging efforts has been Solutions are worthless unless shared for quite a while already. That's to say, since I've gotten a lot of help from the community whenever I've had issues getting something to work, I like to give something back. This blog is my way of doing that.
Blogging has been a great, lightweight way to sort my thoughts and document weird fixes and findings along the way. And boy, has there been a lot of them! Microsoft's stack always keeps surprising me – mostly in a positive way, but there's an occasional bump along the way too.
These are some of the topics I often write about: Azure Active Directory errors, Azure PowerShell errors, terrifying examples about how to open a modal dialog in SharePoint using JavaScript, all kinds of weird new Microsoft Azure -related tidbits of information, a bunch of Visual Studio -related (and other) tips and tricks, and of course the blog's namesake – SharePoint Problems.
A lot of people seem to struggle with the same issues, as the blog nowadays has over 70 000 visitors monthly. May you find my thoughtful workarounds as useful as I have!
In addition to more technical posts, sometimes I might post about my sessions at different community events, or experiences as an expat living in a foreign country (in 2017, that country was the USA, in 2018 & 2019 Canada). Right before the pandemic, I moved back to Finland to live in the middle of a forest.
---
Speaking Gigs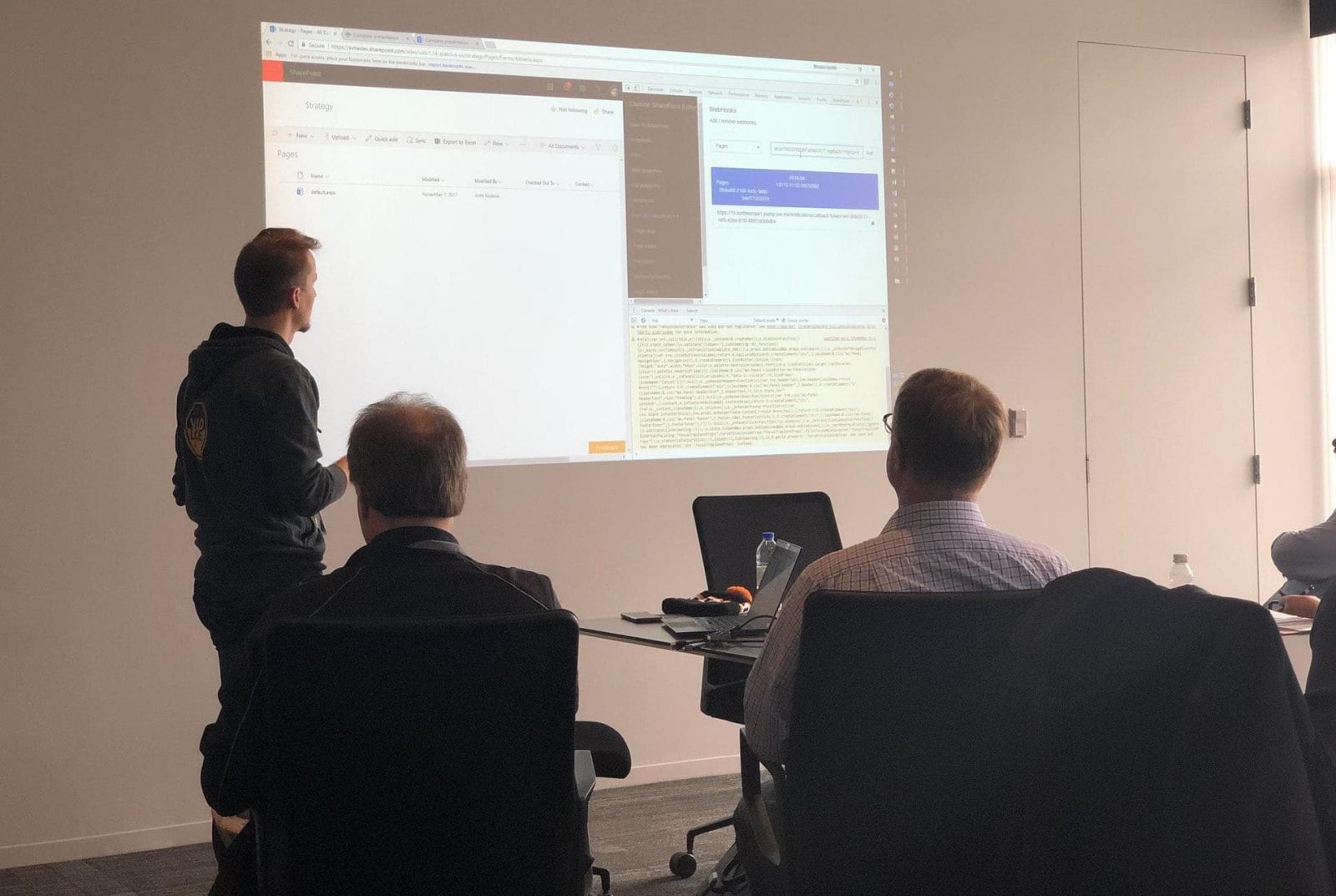 ---
No upcoming engagements. I've cut down traveling due to the pandemic.
---
Want to learn more? Check out the about me -page, page/post archive, the list of my blog posts (latest first) or contact me! :)